My Reading Between the Wines book club is currently reading this book. I am not too far in yet, but we meet on Wednesday, so I will be doing some heavy duty reading the next two days. It looks like something I would like, so I am looking forward to spending some time with it tomorrow. I will let you know what I think.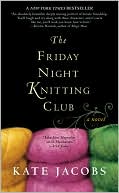 In other reading, I plucked the
Twilight Series
off of Meghan's book shelf this summer. She had been telling me how good the books were. I started Twilight and kind of made fun of it to her at the beginning. But then, holy wow......it got SO GOOD. I read the rest of the books through the summer. (Well, I read the 1st three books in four days and then I had to wait until August when
Breaking Dawn
was released to finish the series.) Can I say it again.......SO, SO GOOD. Gah.....Edward Cullen. If only I were a teen again.
OK, two more books that are waiting in queue on my nightstand:
The Thirteenth Tale
and
The Sugar Queen
. The former is kind of a gothic mystery and the latter is the second book by Sarah Addison Allen who wrote
Garden Spells
. Loved that book.
Anyone else out there with suggestions to add to my nightstand?